Taipei - With a human rights film festival, candlelight display, and passionate speeches, Taiwan's capital, Taipei, on Sunday marked 34 years since Chinese soldiers fired on peaceful protesters in Beijing's Tiananmen Square - bringing an end to China's largest protest movement in a generation.
Known simply as "June 4th" to Chinese speakers, the day inspires memorials and events around the world to slain Chinese democracy activists, but Taipei's vigil has taken on new meaning as the only place in the Chinese-speaking world that openly holds a memorial.
The event was held on the grounds of Chiang Kai-shek Memorial Hall, a monument to Taiwan's former authoritarian leader. It has become a staging ground for protests and human rights events since Taiwan's transition to democracy.
While the event was focused on remembering the Tiananmen Square massacre, it included booths for other political causes from Tibet to Hong Kong and Taiwanese civil society groups.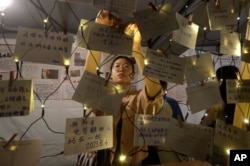 People leave messages during a candlelight vigil at Democracy Square in Taipei, Taiwan, June 4, 2023, to mark the 34th anniversary of the Chinese military crackdown on the pro-democracy movement in Beijing's Tiananmen Square.
Aurora Chang, an activist who spoke on Sunday about Taiwanese and Ukrainian solidary, said the memorial was an important time to express support for different causes united in their fight against authoritarianism.
"Events like these are so important because with historical memory, you have to preserve it or your victims won't get justice and your perpetrators or colonizers will not be held accountable for their crimes," she said.
The memorial was nearly overshadowed on Sunday afternoon by heavy rains and a brewing political storm over several sexual harassment allegations levelled this week against members of the ruling Democratic Progressive Party and exiled Tiananmen Square leader Wang Dan.
Wang denied the accusations on Facebook on Friday about an event that allegedly took place in 2014 between himself and a political party worker.
The scandal, however, and the unpredictable weather did not dim the turnout on Sunday which drew hundreds of people over several hours.
Among them was Gino Lopez, a Philippine undergraduate student studying in Taiwan. Lopez brought a poster expressing solidarity between Taiwan and the Philippines and their similar fights against martial law in the 1980s.
"It's nice to see a very inclusive event that it's not just about Tiananmen but about almost every democratic movement in China," he said. "We have Tibet, we have Hong Kong, and we have Taiwanese ones as well, showing solidary. It speaks to how intersectional [it is] and how this event is not just about commemorating the massacre but it's a symbol of unity."
Taipei takes the reigns from Hong Kong, a former British colony that for 30 years held the world's largest annual Tiananmen Square vigil until political unrest hit the city in 2019 leading to a widespread political crackdown.
At its height in 2019, the Hong Kong vigil drew a record 180,000 people as the city simmered with political grievances, but no official commemoration has been approved since then due to COVID-19 restrictions on gatherings and later the impact of national security legislation.
In 2021, the Hong Kong umbrella group that organized the vigil disbanded, citing a changing political landscape while its leaders have also been charged with subversion and sedition for their role in a 2019 democracy protest. No other organization has stepped in to replace them.
Last year, the Catholic Diocese of Hong Kong also ended its annual Mass commemorating the protests - held since 1989 and one of the last public vigils in Hong Kong - for similar reasons.
People take photos to the imitation of Pillar of Shame during a candlelight vigil at Democracy Square in Taipei, Taiwan, June 4, 2023.
The Taipei vigil organizers, the New School for Democracy, said they hoped to express solidarity with both Hong Kong and Chinese dissidents on Sunday.
"It's clear that Hong Kong lacks the space to commemorate the June 4th incident, not to mention engage in political expression," said an organizer who asked to be identified by her nickname Wonka. "As Taiwanese, we can't help but imagine such a situation. We, as Taiwanese, will strive to preserve these spaces and continue holding such events."
Separately on Sunday, Vice President William Lai said the "memory of June 4th should not be erased, and the brutal history of blood repression should not be forgotten," in a statement on Facebook.
"In the torrent of history, we must continue to discuss and communicate June 4th and strive to remember history in various ways, while reminding ourselves that democracy and freedom are not easy to come by," he added.